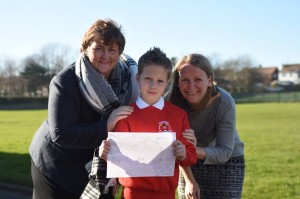 Last year we launched a competition to celebrate the release of our new infant range of outdoor gym equipment – now we're delighted to announce the winner!
The prize of a Key Stage 1 trim trail – designed for children aged three to seven – is on its way to Marsden Primary School in Whitburn, South Tyneside, after pupil Charlie Begg impressed the judges the most with his entry.
The nine-year-old, who is a Year 4 pupil at the school, in Mill Lane, took inspiration from his love of riding his bike and came up with a two-person cycle track that combined all the elements Play Fitness aims to bring together in its work.
Explaining his entry, Charlie wrote: "Two exercise bikes are put on with wheels on a track. You need two people to work it. You need to try and go all the way round the track by working in a team."
Mark Carter, sales consultant at Play Fitness, said: "We had a fantastic response to the competition and would like to thank everyone who took the time to enter. The standard of entries was very high.
"We covered the names of the children and their schools during the judging process and based it purely on the design. We shortlisted it to five, then three, then two, then one, which was Charlie's pretty unique design.
"We loved the fact that it involved teamwork, in that it would take two people to work it, and that it also provided a bit of competitiveness, as they would be racing against each other.
"It was also about exercise as well as play."
The school is now hoping to have the £12,000 trim trail, which features balance beams, hump-back bridge and stepping stones, installed in time for spring.
Headteacher Caroline Marshall, who joined the school in September last year, is also planning to add a plaque in Charlie's honour.
She said: "It is a brilliant way to start my time here. We have got such gorgeous grounds, it will be nice to give the children more to see and do.
"Charlie's design was all his own work. He's a very independent little boy and it is how he wanted to do it. He just thought about what the children in his class and the rest of the school like."
Charlie said: "I am really happy to win and I think the other children are going to like it."
Whitburn and Marsden councillor Tracey Dixon, who is also a governor at the school, said: "I think it's absolutely amazing that Charlie's entry won. It's a great boost for the school and a great initiative from the company."
Play Fitness, based on Forest Road Industrial Estate in South Shields, installed its first outdoor gym in 2008 and has since completed more than 70 projects in schools across the country.