Here are the activities for this week.

Remote learning tasks can be accessed via Google Classroom and will no longer be published on the website. Activities be available by this evening.
If you are having any trouble accessing Google Classroom you can email your class teacher or [email protected] and we will try our best to help you.
Stay Safe 🙂
Today marks Safer Internet Day and this year we the focus is
An internet we trust: exploring reliability in the online world
You can access some resources to use with your children by following the link below.
Click Here
As well as these ideas at the bottom of our remote learning tab you can access lots of resources and videos from the ICT in schools website which can be found in the Remote Learning menu or clicking the link below.
Click Here
As part of 'Children's Mental Health Week' it's now more important than ever to keep our bodies moving and to keep our minds healthy.
Why not try some of these PE challenges this week?
This week is Children's Mental Health Week and this year's theme is 'Express Yourself'.
We all know that mental health and well being at the current time is highly important for all of us. Explaining this to young people and our students can be a sensitive subject.
Expressing yourself is about finding ways to share feelings, thoughts, or ideas, through creativity. It is about finding a way to show who you are, and how you see the world, that can help you feel good about yourself.
As parents and carers, you play an important role in your child's mental health. For further information and free resources, click here.
You can also watch a special assembly by clicking here.
Here are some additional resources to support your child's mental health at home: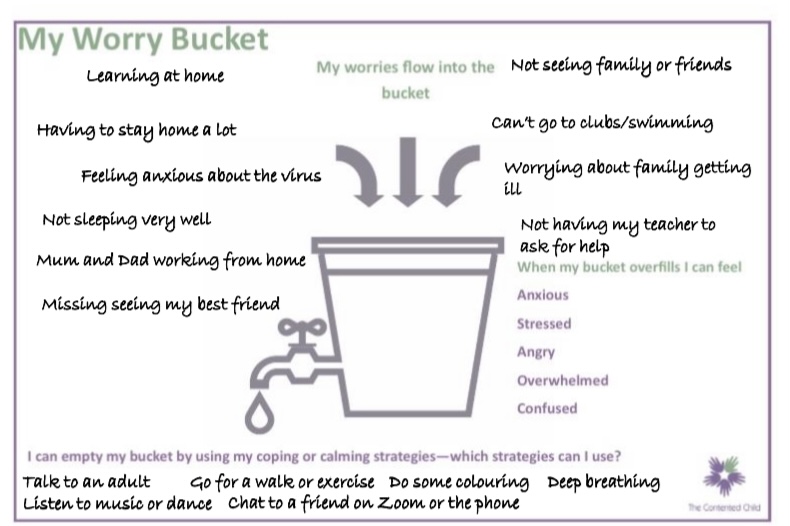 Saturday marked the beginning of storytelling week. Reading stories to children can show them far-flung places, extraordinary people and eye-opening situations to expand and enrich their world.
At Marsden, we always encourage and promote a love of reading. We are extremely lucky to have our own "Grandad's Library" at school and the children always tell us how much they love sharing the books with you at home.
To help celebrate this week we have set the children two storytelling challenges and staff will be telling you about their favourite books throughout the week.
Videos and pictures of your challenges can be sent to [email protected] and will be proudly displayed on our website for everyone to enjoy.
Do you have a favourite book? Let us know in the comment section below.
During lockdown and in the current climate, it can be challenging for children to understand what is going on around them and this can have a significant impact on their social, emotional and mental health.
Here are some suggestions to support your child's wellbeing at home:
A huge "Happy Birthday" to the inspiration for our school logo, Souter Lighthouse!
It is a very impressive 150 years old today!!!
Why not make your own card or lighthouse picture to mark the occasion? Email your creations to [email protected]
Remote learning can be challenging for all children, particularly those learners with Special Educational Needs and Disabilities (SEND).
Here are a wide range of websites and resources, aimed to support children and families with SEND.
BBC Bitesize have a specific SEND section on their website, offering lots of advice and resources to support remote learning for young people.
Special Needs Jungle offer lots of support and useful links for families.
'ChatterPack' is a voluntary community project, which offers free support for schools, parents and children with SEND. They have a wide range of resources including free websites, a monthly newsletter and lots of resources to support a wide range of Special Educational Needs.
To find out more, click here.
For free home learning resources, click here.
For free Speech and Language and Occupational Therapy support and resources, click here.
The Communication Trust
Top tips for supporting children with SLCN
Dyslexia Information for Parents from Nessy

Working Memory Advice and Games
If your child, or anyone in your family, is struggling to cope with the current situation, 'Young Minds' have a range of resources and support bases available to help.
The 'Young Minds' website has tips and advice on how to support your child's mental health during the pandemic and also has links to external services, which can provide further support and information.
'Empowering Little Minds' provides ideas and resources for sensory and
messy play, aimed at children aged 2 – 10 years old.
'Singing Hands' is a YouTube channel which uses features Makaton songs and rhymes.
'Relax Kids' provides a free 'Calm Pack', which includes advice for children, parents and carers.
Remote Learning advice for specific areas of need including Dyslexia, ADHD and Autism.
South Tyneside Local Offer provides resources, advice and links to external agencies to support parents and young people with SEND.
The Government have also produced a list of online resources, aimed to support learning across the curriculum for all children. This includes links to charities to support Mental Health, Speech and Language and many other areas too.
If you would like any additional information or support, please email [email protected]